Candida Royalle is considered the pioneer of sex-positive porn and has strengthened women's role in this industry in an impressive and sustainable way. Candida herself was a porn actress for a long time and therefore she knew exactly what she was talking about when she criticized the treatment of women in the porn industry.
Born Candice Vadala, Candida began her porn career in the mid-1970s. She was no stranger to self-staging, she had some experience in dance performances in New York jazz clubs. She was able to make a name for herself so quickly in the adult film scene.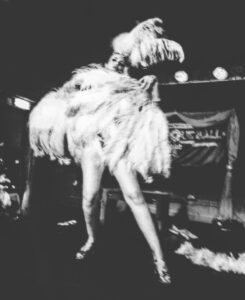 The 70s and 80s are often referred to as The Golden Era of Porn . Quite questionable when you consider the status of women's rights at the time. Sex workers had a subordinate role relative to the man in porn, and could not carry out a self-determined approach in the films. Candice experienced this firsthand as an actress, and courageously decided to break with this tradition.
As a first step in this direction, she founded a production company called "Femme Productions" in 1984, which explicitly produced porn for women. It was the priority of Femme Productions that all actors in the films practice safe sex.
Vadala thus indirectly fought against the conventional attitude of focusing on male pleasure as the sole punch line of most porn stories. She advocated safe sex and the embedding of pornographic content in the context of female life.
Porn is going academic and scooping honors
Vadala's work holds real relevance for society and science: She lectured at American universities and eventually became a member of the "American Association of Sex Educators, Counselors and Therapists".
Of course, she insisted on signing the "Post Porn Modernist Manifesto" (1989, for later versions click here). After all, the manifesto is about a new female-friendly approach to pornography. According to the manifesto, sexuality is part of human beings' essence, and should therefore also be portrayed accordingly in pornographic films.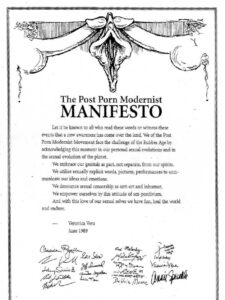 Vadala won several awards for her life's work, for example the Feminist Porn Award or the PorYes Award. A place in the hall of fame of the porn industry, the AVN and the XRCO Hall of Fame, could not be missed for her.
Candice Vadala, one of the first sex-positive porn producers and pioneers, died on September 2nd, 2015. We admire Vadala for her groundbreaking work!
If you want to find out more about Candida Royalle then please read our other article on "Candice".